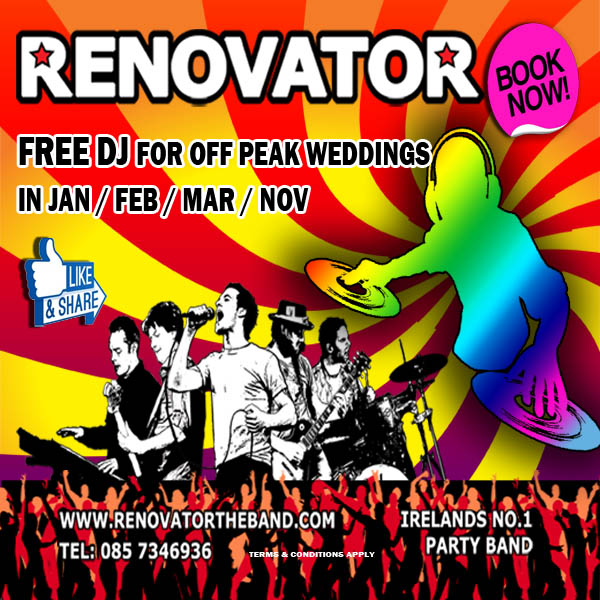 Professional Wedding DJ Service
Our professional Wedding DJ and party DJ aims to make your special day exactly as you want it to be after all its the most important part of your day after the band.
We provide a complete wedding DJ service including detailed planning, specific music choices. We operate at the top end of the industry take great pride in that. We take the time to get to know you and with our relaxed and professional manner, gain a complete understanding of your requirements. We have entertained at some of the most beautiful weddings and best parties and nightclubs in Ireland.
Our DJ sets up the same time as the Band and is ready to continue the Party with a fresh burst of energy the second the band finishes.
Our DJ will play a selection of Pop chart hits with Classic floor-fillers. He will take requests from your guests on the night and if there is a few special songs you want included in the set that can be easily arranged also.

Along the way, we've become experts in the logistical side of things too and are experienced in dealing with venues, audio/visual companies and other on-the-day service providers, as well as our customers themselves.
RENOVATOR can take the hassle out of organising your entertainment and give you and your guests a night to remember!
Please check our videos and testimonials to see us in action and find out what our customers are saying about us.
RENOVATOR Rocked the dance-floor all night long. When they finished up the DJ took over the party Immediately with another burst of energy that saw us all dancing to the early hours of the morning. My guests are still talking about the Band and DJ to this day. We just were not able to leave the dance-floor all night. They played Hit after Hit. Definitely the Best Wedding Band and DJ I have ever heard.

– John & Mary